"It's the craziest thing," Gonzales told the station. "It could have been very bad."
Gonzales said he learned about the incident when his 17-year-old son came home with blood on his shirt and bullet fragments in his neck.
"He's shaken up, but he's going to be OK. I'm just pretty upset that no one told us anything and we had to call the police ourselves to report it," the father told the TV station.
The teen was treated at a hospital.
The teacher was identified by police as Dennis Alexander, who teaches math as well as a course in the administration of justice. Alexander is a reserve police officer for Sand City and a Seaside city councilman.
The Monterey County Weekly, quoting Sand City Police Chief Brian Ferrante, reported that Alexander had his last gun safety training less than a year ago. "I have concerns about why he was displaying a loaded firearm in a classroom," Ferrante told KSBW. "We will be looking into that."
Exactly why the teacher was displaying the weapon at all was not entirely clear. Police said he was "providing instruction related to public safety."
The father told KSBW that the teacher was preparing to use the gun to show how to disarm someone.
Daniel "PK" Diffenbaugh, superintendent of the Monterey Peninsula Unified School District, told the Weekly that the incident occurred during the administration of justice class, a career track course offered by the school. "Clearly, we will revisit this incident to ensure that something like this would never happen again."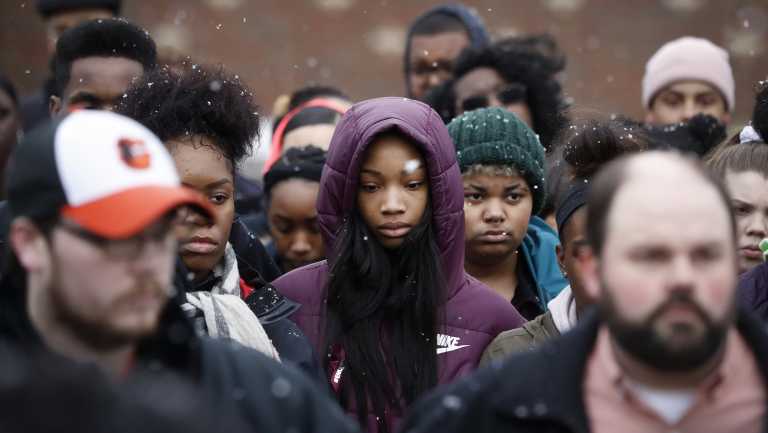 Diffenbaugh noted that state law and school policy forbids carrying firearms on campus without authorisation. Alexander, he said, was not authorised.
"I think a lot of questions are on parents' minds are, why a teacher would be pointing a loaded firearm at the ceiling in front of students," Diffenbaugh told KSBW. "Clearly in this incident protocols were not followed."
The teacher has been placed on administrative leave while an investigation takes place, according to the school. The Sand City Police Department also placed Alexander on administrative leave.
The incident comes amid a national debate on how to protect students from mass shootings like the one that took the lives of 17 students in Parkland, Florida in February.
Among the proposals advanced is training and arming teachers, an approach favoured by President Trump, among others but opposed by a majority of the teachers in the National Education Association, including many who said in an NEA survey that it would make them feel less safe.
School resumed after the incident.
The Washington Post