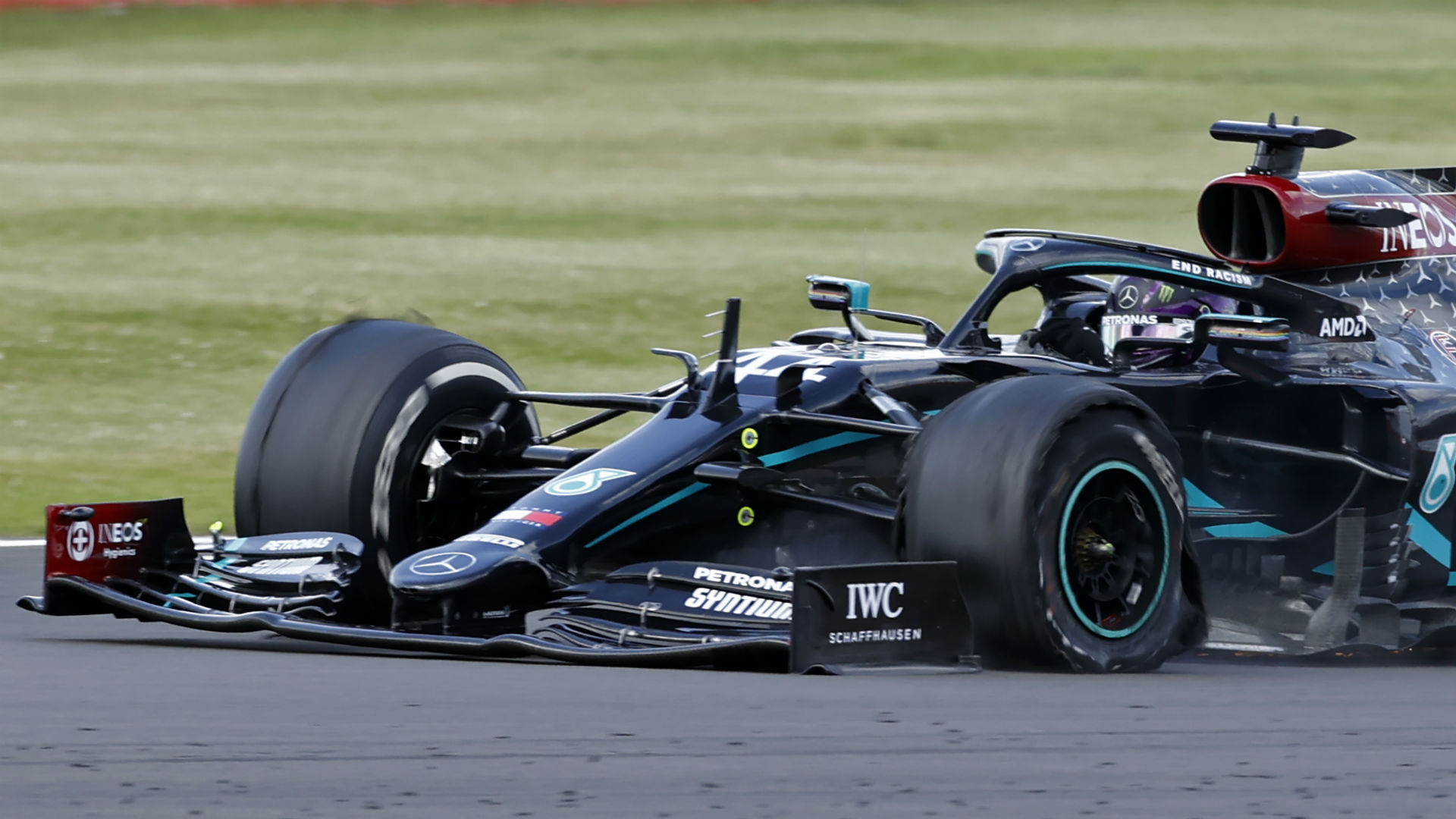 Can Lewis Hamilton be stopped?

That might be the easiestquestion to answer after Sunday's British Grand Prix at Silverstone. After Lewis Hamilton took home another first-place finish in the British GP. Hamilton took home his seventh win at Silverstone and he did with with a popped tire in the final lap of the race. Luckily for Hamilton, he had 30 seconds up on second place winner Max Verstappen.

Interestingly, Hamilton wasn't the only Mercedes with tire issues, with teammate Valtteri Bottas having a blowout in the closing laps of the race, allowing Verstappen to overtake him. It also opened the door for Charles Leclerc to take a podium spot after holding firm in fourth all race.

Hamilton has now won hislast three races in dominating fashion, with victories at the Styrian and Hungarian GPs in July. Silverstone proved more of the same. Hamilton has dominated the circuit while behind the wheel for Mercedes,taking home British GP victories in five of the last six years and his seventh win at Silverstone overall.

So, to revisit: Can Lewis Hamilton be stopped en route to another F1 championship? If a flat tire can't stop him, then who can?

Sporting Newstrackedlive updates, highlights and more from Round 4 of the 2020 F1 season below.

MORE: Watch Formula 1 live with fuboTV (7-day free trial)

(All times Eastern.)
Formula 1 British Grand Prix results
10:43 a.m. PODIUM: Hamilton finishes the race just ahead of Verstappen after popping his left front tire. Leclerc finishes third, taking a podium spot after Bottas loses his tired in the closing laps of the British GP. Insane end.

Formula 1 (@F1) August 2, 2020
10:41 a.m.: Lewis Hamilton has lost his left front tire. Verstappen is closing, but Hamilton takes the race. Unreal end.
10:37 a.m.: Bottas has lost his left front tire. Verstappen has overtaken Bottas. Wow. Drama in the closing laps.
10:35 a.m.: Four laps to go and Hamilton, Bottas and Verstappen comprise your podium. Verstappen
10:31 a.m.: Alex Albon moving up from 17th to 13th, and then into 12th, with Vettel ahead of him.
10:25 a.m.: An interesting development: Bottas says he's sensing a vibration in his car, and Verstappen just set the fastest lap for the race. Verstappen catching up isn't out of the question here, depending on what Bottas decides to do here.
10:22 a.m.: Another disappointing day for Sebastian Vettel.
10:17 a.m.: 15 laps left and Hamilton and Bottas are dominating the field, somewhat unsurprisingly.
10:13 a.m.: And now Hamilton takes the fastest lap from Bottas.
10:07 a.m.: Bottas currently holds the fastest lap, he's behind teammate Hamilton by just under two seconds.
9:56 a.m.: Carlos Sainz powers past Romain Grosjean and he's into the top five.
9:51 a.m.: Alex Albon is assessed a five-second penalty for the wreck with Magnussen. Teammates Lando Norris and Carlos Sainz fighting for sixth place.
9:46 a.m.: Kvyat's car is finally on the rig and heading off. Should have racing again soon.
9:44 a.m.: Lewis Hamilton seems disappointed with the speed of the safety car, begging him to speed up.
9:35 a.m.: Daniil Kvyat is wrecked. The safety car and medical car are out. Looks like he just lost grip heading into a turn. His day is done.
9:32 a.m.: It's all Team Mercedes early on through lap 11. Hamilton and Bottas opening up a lead on Verstappen and Leclerc.
9:27 a.m.: Vettel is sitting in 10th just sitting in 10th. Hamilton opening up a lead on Bottas, with Verstappen, Leclerc and Sainz rounding out the top five.
9:26 a.m.: Albon is pitting early, effects of the collision? Potentially.
9:24 a.m.: Safety car is heading off and racing will resume shortly.
9:15 a.m.: Safety car is is out as Alex Albon and Kevin Magnussen collide. Magnussen is wrecked and heads into the wall. His day is done.
9:14 a.m.: Hamilton leads Bottas, Verstappen, Leclerc early on. A quick start for Leclerc as he and Verstappen jockey for third.
9:10 a.m.: Nico Hulkenberg is out after an issue with with his car. This comes after he got the start for Racing Point after Sergio Perez tested positive for COVID-19.
9:01 a.m.: Drivers are strapping up and in, and we're a few minutes from lights out at Silverstone Circuit.
8:53 a.m.: F1 drivers delivering a powerful message to start the day:
| Grid position | Driver | Team | Lap time |
| --- | --- | --- | --- |
| 1 | Lewis Hamilton | Mercedes | 1'24.303 |
| 2 | Valtteri Bottas | Mercedes | 1'24.616 |
| 3 | Max Verstappen | Red Bull | 1'25.325 |
| 4 | Charles Leclerc | Ferrari | 1'25.782 |
| 5 | Lando Norris | McLaren | 1'25.782 |
| 6 | Lance Stroll | Racing Point | 1'25.839 |
| 7 | Carlos Sainz Jr. | McLaren | 1'25.965 |
| 8 | Daniel Ricciardo | Renault | 1'26.009 |
| 9 | Esteban Ocon | Renault | 1'26.209 |
| 10 | Sebastian Vettel | Ferrari | 1'26.339 |
| 11 | Pierre Gasly | AlphaTauri | 1'26.501 |
| 12 | Alex Albon | Red Bull | 1'26.545 |
| 13 | Nico Hulkenberg | Racing Point | 1'26.566 |
| 14 | Kevin Magnussen | Haas | 1'27.158 |
| 15 | Antonio Giovinazzi | Alfa Romeo | 1'27.164 |
| 16 | Kimi Raikkonen | Alfa Romeo | 1'27.366 |
| 17 | Romain Grosjean | Haas | 1'27.643 |
| 18 | Nicholas Latifi | Williams | 1'27.705 |
| 19 | Daniil Kvyat | AlphaTauri | 1'27.744 |
| 20 | George Russell | Williams | 1'27.092 |